Cast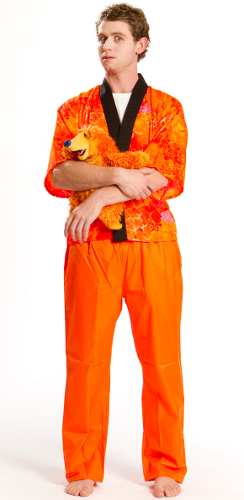 Mark Kenny
ACTOR:
playing Karl Leckie, hapless astral traveller.
Mark has been performing since his last year at high school and after completing an Honours degree in Performing Arts at Monash University he has been working with Alpha Shows since 2008.
Starting as Quasimodo in The Hunchback of Notre Dame he has gone on to play other varying comedic roles from the Genie in Aladdin to Philoctetes in Hercules. He is a very experienced comedy performer, being in over 300 individual performances of various shows at schools and theatres around the country.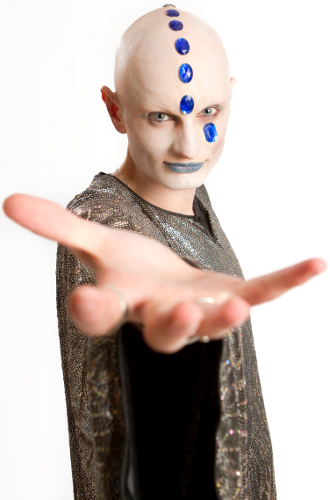 James Seamark
ACTOR:
playing The Puppeteer
–Frank the Bunny-Eared Angel, head of Angel Central
–Xorax Evil Space Frog, leader of the Lime space aliens
–Kiki, leader of the Violet space aliens
–numerous incidental balloon aliens.
James Seamark has studied many theatrical styles including commedia dell'arte, Brechtian Epic Theatre, and Stanislavski Method. He has performed in more than fifty shows ranging from Shakespeare to the works of Neil Simon.
In 2007 James won the Melbourne International Comedy Festival's National Class Clowns Competition. Since then he has been performing in bars, pubs, and clubs with his special blend of observational, physical, and musical comedy.
Katherine Phelps
WRITER/PRODUCER/
DIRECTOR/ACTOR/
JANITOR:
playing Spacerella, dimensional superhero
–Mbulu, Tiki god.
Wrote, directed, produced, and performed in Fly Glass Wings, a Christmas variety show; Fly Glass Wings: The Movie, a full-length mockumentary feature; Time Titties, a television pitch promo-reel; and Strange Blessings, a solo show for the 2010 Melbourne International Comedy Festival. Splodgenoodle review for Strange Blessings: "Somewhere between Dr Seuss and Shakespeare."
Finalist in the 2008 Screen Development Australia national pitch competition for the rock musical The Kookas. Written animated scripts for Monkeystack Animation and was on the story development team for Bridget Goddess produced by Nickelodeon. Author of Surf's Up: Internet Australian Style published by Reed Books and distributed by Random House, and contributed to Screenwriting: A Manual published by Oxford University Press.
Dr Phelps has been a lecturer in storytelling for computer game design at the Royal Melbourne Institute of Technology and Victoria University. She moonlights as a standup comedian.