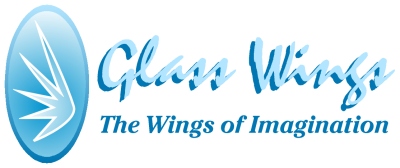 Welcome to Glass Wings
Established March 1994
Welcome to the Glass Wings site. Many fairytales speak of a book that continuously writes itself for the delight of whoever possesses it. We like to imagine our site as being just such a book, only with a variety of chapters and topics all expanding at once as we have the opportunity to present our newest creations to you. It is our desire that in this way we shall rekindle people's appreciation of love, fun, beauty, wisdom and imagination. It is with great pleasure that we present to you our finest work.
---
Glass Wings is a happening site. New stuff is being added all the time. Fly here to go directly to the latest additions to our already copious local offerings.
---
We Proudly Present:
Laugh until your sides hurt. We invite you to explore silliness galore, puppetry, animation, and all other imaginative arts. Don't miss the amazing adventures of Rocketship Ginger!
We now have a selection of fine comic art to be enjoyed on a regular basis. Some are funny and some are adventuresome, so you will find links to specific comics from within our other magazines. However, the whole lot are gathered together here for your enjoyment.
Flights of fantasy, thought and imagination. Join our intrepid adventurers as we travel through works of fiction, non-fiction and the contemporary arts.
Exploring healthy human sexual expression and mature adult relations mixed with a lot of fun.
Recipes that are both wonderfully and horribly sweet, fattening and gooey. Plus a few of our favourite vegetarian dishes. Don't miss the chocolate cake recipe.
Essays ranging to other fields than the arts.
A special area just for children. Included are some of the more kid friendly material from this site, plus items meant specifically for the young.
A doctoral exegesis on the issues related to creating hyperfiction, particularly in relation to the hypernovel Odysseus, She.
---
Copyright © 18 July 1994, last updated 11 February 2003
Katherine Phelps <muse@glasswings.com.au>.